Take good care of your child's baby teeth.
They do eventually fall out. But until they do, your child's baby teeth play an important role by helping your child bite and chew food, and speak clearly. Baby teeth also save space for the permanent teeth, and help guide them into place.
Once your child's teeth come in they should brush at least twice a day – with the help of an adult to make sure they are removing all the 'sugar bugs'. At some point, your child will want to use the toothbrush. It's OK to give him or her a turn. But afterward you should always brush your child's teeth a second time. Most children won't be able to brush their teeth well on their own until they are about 8 years old. A good way to be sure that your child is ready to brush alone is when they are able to neatly write their name. As important as it is to brush your child should also be flossing as soon as two teeth come in that are touching each other. You can use regular floss or special plastic floss holders.
Please Contact Power Ranch Dental if you have any concerns regarding your or your childs' dental health. We strive in offering the best patient care, and would love to welcome you to our family. We look forward to hearing from you soon. (480) 988-2282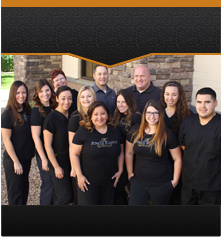 FREE CONSULTATION