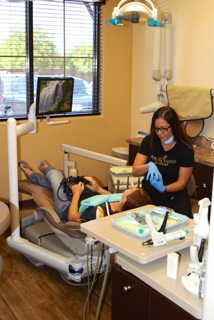 Expectations and Maintenance following In-House Teeth Whitening:
Significant whitening can be achieved in many cases, but there is no definite way to predict how light you teeth will get after in office whitening procedures. Candidates with yellow or yellow/brown teeth tend to whiten better then people with gray or gray/brown teeth. Teeth discolored by antibiotics, decalcification (white spots), root canal therapy, or trauma do not always respond as quickly or predictably and may require additional treatment. On the other hand, if your teeth are already a light shade of white, for example A-1/B-1 of the Vita Shade Guide, your whitening results could be minimal. The level of whiteness varies with each individual; therefore, you may not achieve a higher degree of whitening.
Maintenance:
It may appear that there is a slight change in the shade of your teeth within 24-48 hours. This is due to the reformation of saliva coating. Also, through the m=normal staining of a day-to-day eating and drinking, you may experience a slight regression of shade. This will depend on the frequency of your use of:
Tobacco, Coffee, Tea and Red wine
This can generally be managed by using a maintenance program at home. We recommend the use is whitening toothpaste or take home bleaching trays after meals, or in the morning and at night to maintain the whiteness.
If you have any other questions regarding the outcome of teeth whitening or how to keep your teeth white after treatment, give us a call at (480) 988-2282.

FREE CONSULTATION