Potential Risks and Problems that can arise from Teeth Whitening:
Teeth whitening can have some risks and limitations. Complications the can occur in professional teeth whitening are generally infrequent and are usually minor in nature.
Tooth Sensitivity: you may experience some tooth sensitivity. The sensitivity is usually mild if your teeth are not normally sensitive. If your teeth are normally sensitive, you can experience extreme sensitivity. We cannot eliminate the risk. In some cases, we may suggest taking Ibuprophen 400 mg before beginning the procedure. Please let us know if you experience and discomfort during procedure. If your teeth become or stay sensitive following the procedure, Tylenol, Ibuprophen or Advil will usually be effective in helping you feel comfortable. This sensitivity generally goes away in 12-24 hours. If this persists for more than 24 hours, please contact our office.
Gum and Soft Tissue Irritation: temporary inflammation of the gums and other soft tissues of the mouth can occur during the procedure. This is generally the result of the whitening gel coming in contact with these tissues. Protective materials are placed in the mouth to prevent this but despite our efforts, it can still occur. Usually, this will go away within 1-2 hours following the procedure. This irritation is generally short in duration and is very mild. If discomfort persists for more than 24 hours, please contact office.
Fillings and other Dental Restorations: Tooth colored fillings (composite), composite veneer/bonding, porcelain crowns and/ or porcelain veneers will not whiten at all. We may be able to remove certain stains (tobacco) from the surface or the restorations. All dental restorations that show when you smile may need to be replaced at your expense. Please be sure to discuss this with the dentist prior to beginning treatment.
Power Ranch Dental would love to answer any questions you may have, give us a call today. (480) 988-2282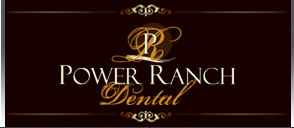 FREE TEETH BLEACHING