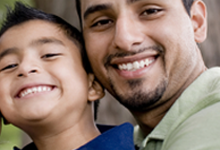 How can I help my children maintain healthy teeth and gums?
The dentist is a main factor in preventing future dental conditions and repairing problems. However, remember that good hygiene begins at home and requires daily diligence. Here are a few steps to help ensure that you child develops a beautiful and healthy smile.
Supervise your children when they are brushing their teeth and flossing until they are confident.
Make sure they brush twice a day.
Don't use too much toothpaste and never let them swallow.
Keep sugary foods and drinks to a minimum.
Keep an eye in your children to see if their teeth are coming in straight or if they are developing an overbite.
If your children are in sports, encourage them to wear a protective mouth guard.
For more information about your child's smile of if you would like to make them an appointment to see a dentist, please give Power Ranch Dental a call at (480) 988- 2282! Thank You!

FREE CONSULTATION